Virtual employment fair
The National Employment Service (NES) organizes a virtual Employment Fair, using innovative internet technology that provides easy access and a virtual environment tailored to users.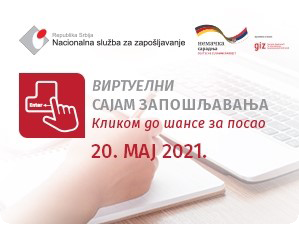 The fair will be held on Thursday, May 20, 2021, from 10:00 to 16:00. The participation of 70 companies from Serbia that offer employment opportunities has been provided at the Fair , and the participation of 7,500 registered participants , job seekers , is expected . Participation in the fair is free for all participants. Anyone looking for a job can easily apply and participate in the Fair. It is not necessary to install any additional software for registration, and inclusion is possible online from any device (mobile phone, tablet, laptop, desktop computer) by clicking on www.nsz-sajamzaposljavanja.rs.

Although it takes place in a virtual environment, this Fair is an opportunity for job seekers to talk directly with employers and find out about employment opportunities. The possibilities are numerous for candidates of different educational profiles, qualification levels and previous work experience. During the entire duration of the Fair, representatives of the NES will be available, whose info path is located in the Main Hall. Accompanying events that are held at the Fair are the opening ceremony as well as webinars that will take place in the Conference Hall and the Webinars Hall (hall marked "Webinars"). The fair is organized with the support of the global program "Migration and Development" which is implemented in Serbia by the German Organization for International Cooperation - GIZ. Click to get a job chance! Looking forward to your visit at the virtual job fair!